Heartland Bombshells
Blue Moose Tap House — Friday, Sept. 30; doors at 8 p.m.
Burlesque has exploded nationwide in recent years, and styles run the gamut from revival of classic teases like the fan dance to edgy, performance arty acts with political punch. Iowa is no exception to this trend, and has even hosted the Iowa Burlesque Festival. The latest addition to eastern Iowa's burlesque scene, the Heartland Bombshells, debuts tonight at the Blue Moose alongside members of the IC Kings, a local drag group. Other acts like Cedar Rapids' the Va Va Voom, perform all over the area, but the Bombshells are currently the only Iowa City-based group. In often politically correct Iowa City, in the hypersexualized context of the 21st century where women are objectified while simultaneously being judged for exploring their sexuality, what does it mean to take your clothes off for art and pleasure? Leader of the Bombshells Auralie Wilde, Hugh Jindapants from the IC Kings and Patrick Dolan from the Gender, Women's and Sexuality Studies Department at the University of Iowa shared their perspectives on feminism and the burlesque renaissance with Little Village. (Questions and answers edited for brevity.)
The Heartland Bombshells bill themselves as "sex positive," which generally defines all safe, consensual sexual acts as healthy and positive. Do you subscribe to this idea? Why or why not?
Auralie: Absolutely … Different things work for different people … I don't see why anyone's preference is anyone else's business … It's 2016 and it's really time for the 'slut-shaming' to end.
Hugh: When you're part of a marginalized group that is also sometimes targeted with negativity and violence, it's often easier to seclude yourself. We aim to welcome out these demographics into a mixed environment full of allies and positive support.
Patrick: Each of us should be having exactly as much consensual sex as they desire and … of exactly the kind of sex they want — nasty, sweaty, ecstatic, gentle, loving, playful, whatever.
There is an ongoing debate in the feminist community: by reclaiming a genre of expression that was historically controlled by men, burlesque performers are able to take back control of their own sexuality, vs. by adopting a historically oppressive form, women are complicit in reinforcing an objectifying institution. Can an art form designed for the male gaze be reinvented to express the desires and sexuality of female performers?
Auralie: Absolutely … It's a way to mock the objectification, which is a similarity to drag … Burlesque to me is an act of political rebellion … Getting on stage and taking my clothes off is my way of saying "fuck you" to society and the laws it places on my body.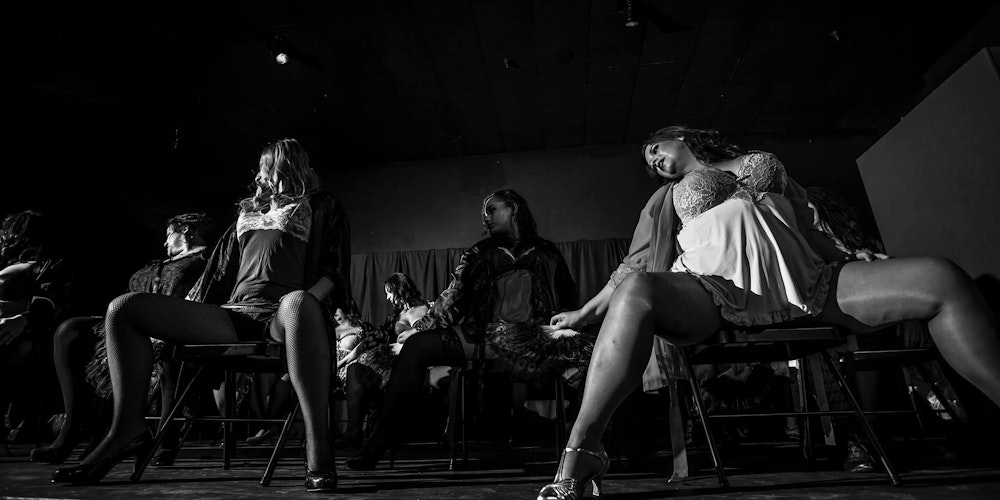 Hugh: As a female performer who sometimes performs a meta-drag version of high femininity (where Amanda is Hugh portraying a female character, Mister Faux Sister) … To reclaim something as your own is to completely redefine what it once was … The women I interact with are not performing burlesque or femininity for male gaze, they are performing it because although it is something that makes them vulnerable in our culture, they are in control of it and that is very powerful.
Patrick: There's a palpable difference between what the audiences are doing and what's on the stage/screen between male-aimed and new style burlesque … There's far more space for critical reflection for the straight men in the audience.
While both generally feature women taking their clothes off and teasing the audience, the strip club context and the burlesque show context are worlds apart. Burlesque performers generally view their performances as empowering and artistic, while many who work in strip clubs do so out of financial need and are often treated with less respect. Why do you think this is different? What do you believe is the role of burlesque in changing the conversation about strip club dancers, and do you believe that change is positive?
Auralie: I think there is a higher stigma against strippers simply because it's more well known … Burlesque is stripping. It's more about the tease and the journey than it is about being naked, but they really aren't THAT different … I believe people go to strip clubs for personal attention and human contact, and strippers are emotional laborers who deserve respect. It may not be artistic, but most jobs aren't meant to be, and that's what stripping is, it's a job. It's unfair that sex-workers aren't able to complain about their work without someone assuming it means they don't want to do it … A lot of new burlesque performers are quick to say "Burlesque is NOT stripping, it's classier", particularly when explaining their new hobby to their friends or loved ones … this only lifts burlesque by putting down other women. I see that now and make it my mission to educate new performers.
Subscribe to LV Daily for community news, events, photos and more in your inbox every weekday afternoon.
Hugh: I think this is a matter of opinion and very heavily influenced by our male dominated, oppressive sexist culture. I know many women who strip both for the large financial gain … but also because they enjoy expressing themselves sexually and publicly. They feel they have the upper hand in a situation where they safely perform for a given time period, taking sometimes large amounts of money, often directly from the hands of their oppressors … I believe some audience members see [burlesque] as a more moderate version of sexual expression on stage … which slowly opens minds to the prudishness that our culture adopted many years ago, thanks to outdated influences like Puritanism.
Patrick: A sex worker once said to a class I was teaching that people get so hung up on the "sex" that they don't pay enough attention to the "work." And work in this culture is inherently oppressive, even when you're following your bliss.
How might including drag performers in a burlesque show change the audience's perception of the performance?
Auralie: My hope is that the audience will view the entire show as a theatrical experience in which we are commentating on societal expectations of gender and sexuality.
Hugh: There are usually more straight males in the audiences at burlesque shows and while I have sometimes seen confused expressions, more often, they are wildly entertained at what is a new exposure to them. As drag performers, we definitely consider the difference in audiencedemographics and often incorporate more comedy in our burlesque routines. We find people often feel much more comfortable when they can laugh with a mixed crowd.
Patrick: It's a little uncanny to see features of your gender identity parodied, especially when you're looking at women parodying your desires. But the uncanny is directly linked to pleasure in my view, so it's all good.
For the performers: How much of your act is designed for the desires of the audience, and how much of it is built around what you find sexy or interesting? Are there any particular goals you keep in mind when creating an act?
Auralie: When you first start performing it's for yourself, so you do what makes you feel sexy and interesting, BUT if you find something to be sexy, I guarantee there is an audience out there … I believe the sexiest thing to see is someone who is comfortable with themselves and unapologetic of their flaws and quirks … I want the audience to forget about their stresses for an hour or two and just enjoy the present moment. Sometimes my goal is to make them laugh, or think, and sometimes it's to be so intoxicating that they sit silently with mouths agape; but it's always to entertain and hopefully give a little tingle to that special area.*wink*
Anything else you'd like to add to this conversation that you believe is important?
Auralie: I think it's very important that we do not forget that women of color may have an entirely different experience in burlesque, drag, and strip-club settings. When I was performing in New York City, a lot of black women spoke out about feeling unwelcome by certain venues, producers or other performers, and I would very much like to avoid that here in Iowa City.